Mr.Huang,our Taiwanese technician, passed the 66th National Examination for Radiological Technologists.
Mr.Huang graduated from Yuanpei University in Taiwan.
His success is on the web of the Yuanpei University as an updated news.
http://sec.ypu.edu.tw/files/13-1004-34918-1.php?Lang=zh-tw
After he gets a qualification, he is planning to work as a radiological technologists in Miyakojima IGRT Clinic.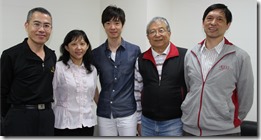 ▲Mr.Huang is a man in center of this picture.